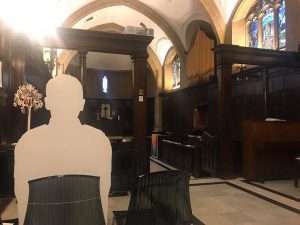 There But Not There is the 2018 Armistice project for the charity Remembered.
In 2014 the major art installation Blood Swept Lands and Seas of Red at the Tower of London marked one hundred years since the first full day of Britain's involvement in the First World War. There But Not There is a nationwide installation for the fallen, timed to conclude on Armistice Day (11th November) 2018. It will mark the centenary of Armistice Day 1918.
Gradually, in public sites throughout the UK, Perspex or metal images of a 'Tommy' are appearing. 'Tommy' was the colloquial name for a foot soldier in the First World War (WW1). The new 'Tommies' are reminders of the people whose absence has had a lingering and profound effect on their home communities. We know, however, that the 'Tommy' also represents many more people than the millions of fathers, brothers, sons, friends and colleagues who served in the four years of the First World War. Westminster College's chapel is a war memorial and we are contributing to the national commemoration by remembering those who were part of the college's history; a story in which former students from England and Germany died in WW1 and WW2. Here are some of their stories.
---
I am William Black Noble. I am a Lieutenant in the 6th Battalion of the Northumberland Fusiliers. In the second Battle of Ypres I was killed on 26th April 1915 when we were defending the village of St Julien, Belgium. You'll find my name is mentioned on the Menin Gate. My parents, Sir William and Lady Margaret Noble, commissioned this chapel in my memory. I am There But Not There.
---
I am Alexander F. Johnston. I am a Second Lieutenant in the London Regiment (Finsbury Rifles). I was killed on 10th September 1916. I wrote to a friend saying 'To come back is to enter on the new heritage. To die will not have been in vain.' You will find my name is on the Thiepval Memorial on The Somme. I am There But Not There.
---
I am Theodor Hesse. I am a Lance Corporal in the German Army and I died at Brest/Bug in Belarus on 5th February 1942. I am There But Not There.
---
I am Hermann Hartmann. I am a soldier on the Eastern front. I died on 27th August 1941, two kilometres outside Punewo on the Dunea/Divina (contemporary Latvia). I am There But Not There.
---
I am Arthur Bawtry. I am a Volunteer Reserve Chaplain (Squadron Leader) in the RAF. While serving in India I contracted enteric fever and died on 5TH July 1943. I am buried in the Bhowanipore Cemetery in Calcutta.  I am There But Not There.
---
I am Geoffrey Vellacott. I am a Lance Corporal in the Australian Army Medical Corps (13th Medical Hospital). I died on 19th December 1943 and am buried at Kanchanburai, the Bridge on the River Kwai, Thailand. I am There But Not There.
---
I am Harold Rogan. I am an RAF pilot. When on secondment in Italy my plane crashed north of Foggia. I died on 15th April 1944 and am buried in the War Cemetery in Bari. I am There But Not There.
---
I am Thomas W.D. James. I am Secretary to the Foreign Missions Committee and am one of two people who died on 9th February 1945 when a V2 rocket hit our offices at Church House in London. I am There But Not There.
---
I am William T. Elmslie. I am the General Secretary of the Presbyterian Church of England where I have been serving since 1935. I also died as a result of the bombing on 9th February 1945. I am There But Not There.
---
 …neither death, nor life, nor angels, nor rulers, nor things present, nor things to come, nor powers, nor height, nor depth, nor anything else in all creation, will be able to separate us from the love of God in Christ Jesus our Lord. (Romans 8. 38,39)