Wednesday 10th to Friday 12th January welcomed a new arrival to our campus; the stunning "The Tree of Life: Encounter" marble sculpture, created by artist and sculptor Helaine Blumenfeld OBE specially for the Woolf Institute.
Helaine says: "Tree Of Life: Encounter was inspired by the aims of the Woolf Institute to bring about understanding between Jews, Christians and Muslims in order to reduce intolerance, as expressed in the words inscribed on its foundation stone "A threefold cord is not quickly broken [Ecclesiastes 4.12]
Tree Of Life: Encounter is a powerful statement of the struggle for unity, with three strands joining together at the base and moving upward through dissonance and chaos to a beautiful flowering of hope."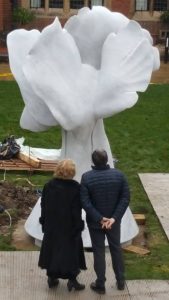 Helaine Blumenfeld, the Sculptor, and Ed Kessler, Director of the Woolf Institute, in front of the installation
The Woolf Institute have a lovely blog piece on the new arrival. There's a wonderful piece on Helaine's website and you and read a little more over at the BBC too.