Student rooms at Westminster College
Located in the heart of the city, Westminster College can offer bed and breakfast facilities to the public all year round, easily accessible from major road networks. The City Centre, CU Library and other close-by Colleges are within a 3-minute walk of the College.
We have 37 bedrooms in the residential wing, referred to as the East Wing. Only a small number of rooms are available for long-term basis during the academic year (end September – early July), for a minimum of a term at a time.
We are proud that our Student Accommodation is ANUK accredited.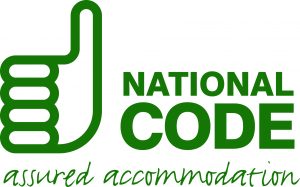 Accommodation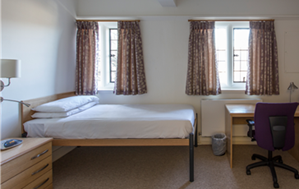 The College offers bright and airy bedrooms within an historic setting. All our rooms are en-suite with stairs or lift access over the three floors. With Wi-Fi throughout, our bedrooms are all fitted out with desks and chairs.
We have three types of rooms depending on size – small, medium and large. Our smaller rooms are perfectly functional with separate shower room, single bed and a study corner. Our Study suites are our largest rooms (main page cover photo) including a small kitchenette (large storage, fridge, microwave, kettle, toaster and George Foreman grill). Linen and bedding is only provided in our guests rooms. Your mattress will come with a protector.
Rates 2021-2022
Please note – we only have one adaptable room located on the ground floor available on long-term basis, it will be charged at the medium rate. If a student required an adaptable room they should not be penalised financially for having this room. Obviously if someone else chose an adaptable en-suite room because they liked the walk in shower and extra space they would be expected to pay the going rate for that room, large suite rate.
For further details on how life at Westminster is, explore our welcome pack which gives you a flavor of living here as a resident!
Residents Welcome Pack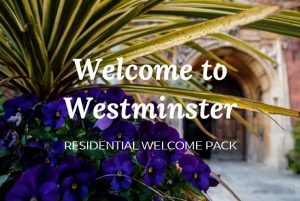 The below covers the basics, but each resident is issued with a Welcome Pack, which we're including here for you.
Please click the thumbnail to view the full document to explore what life is like here!
For students who join our site, we have a dedicated page which includes a wealth of information and some essential reading, and is password protected. You can find it here:
If you believe you should have access but don't remember the password, simply get in touch with a member of the team and we'll help.
Equal Opportunities and Diversity Statement and Commitment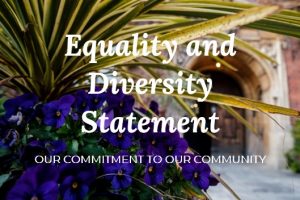 We are committed to openness to all people in today's world. Westminster College recognises that exclusion and discrimination can occur on many grounds.
Our statement and commitment sets out how we seek to eradicate less favorrable treatment.
Facilities on-site
Our Laundry room is on the ground floor of the East Wing, there is a coin-operated laundry for use with irons and an ironing area (Wash: £2.60 and Dry: £1.50). You will find clothing horses to hang your washing.
Individual and lockable pigeonhole are located in the Reception lobby for personal mail at reception, accessible 24 hours.
Extra lockers are available on request from Reception.
Bike shed in secure compound and racks around the College are available to store your bike.
For the ones with a car, there is a limited amount of car permits available each year at the beginning of the academic year (£125), these can be purchase from Reception (£15 per month).
Reception is opened every day (7am-7pm weekdays, 2pm-7pm weekends), night security covers from 7pm-midnight onsite then operate regular patrols in and around the building and corridors until 7am. The College shuts at 11pm and re-opens at 7am.
Each student will be issued a key fob to access building 24 hours.
The Communal bathroom offers a large bath, it is very much first comes, first serves (currently closed due to COVID-19).
Two Communal kitchens available with space to dine on first floor and additional lockable storage.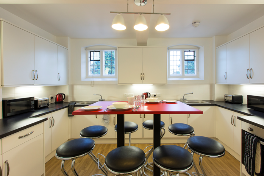 The Common room has a small TV and DVD player, hot drinks dispenser and a water fountain.
Our Chapel is opened to all visitors and during term time a morning worship takes place at 8.30am, Monday to Friday (subject to change due to COVID-19).
Terms and Conditions
For the upcoming academic year, our Rooms will be available from the last week of September 2021 until 3rd July 2022 for 39 weeks from £152 to £183 per week.
A monthly charge of £45 is included for a contribution towards utilities and broadband.
With a preference for College to College agreement, Room licences can be signed directly with students for a full calendar month deposit and a month upfront prior to arrival paid to Westminster College.
Proof of photo ID, residency or eligibility to stay in the UK will be required.
Students will be preferably charged termly at the beginning of each terms, payment must be received within 7 days by bank transfer. If College to College, payment within 30 days.
To request further information of book your room, please contact the Bursary team via email at accommodation@westminster.cam.ac.uk