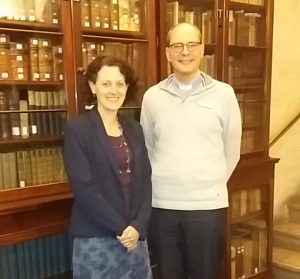 On the evening of Wednesday 2nd November the college community met together in chapel to welcome Dr Alison Gray as Director of Old Testament language, literature and theology. In a worship service led by Mr Alan Yates, United Reformed Church Moderator of General Assembly, Alison was affirmed and commissioned to the work she's undertaking within the college, Cambridge Theological Federation, the University of Cambridge and the wider denomination. Alison is an experienced teacher and during the service she spoke movingly of her love for the Hebrew bible, for illuminating the scriptures, and of her continued desire to share new ways of exploring the richness of the Old Testament in developing the Christian faith.
Following a buffet reception enjoyed by Alison, her family members, close friends, colleagues and students, she said,
I feel honoured to be the first lay tutor to be appointed here, and am looking forward to the breadth of opportunities to serve the wider church as well as to attend to the work of formational training for ministry within the college. It was a pleasure and a privilege to be supported by friends and family and to have received such a warm welcome from the Westminster community.