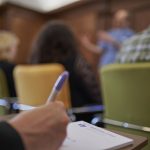 "Studying at Westminster in short is, fantastic!
It is a rich and fascinating experience that has welcomed, celebrated and included me from the day I began. Walking with me as I grow in the journey of faith, whilst also enabling me to learn effectively by supporting my needs.
Studying scripture here has allowed me to work through why I believe what I do and how we are all able to discuss, evolve and change as part of a living tradition responding to a living word. Whilst on retreat together in January 2018, the community were reminded by our Principal,  Neil Thorogood of our connection with many people of faith from the past, present and the future. Whilst reflecting on this I was reminded of the journey that has brought me to Westminster.
Before coming here, I was a store manager for WH Smith in a busy Hospital in East London, whilst also being a Church Elder and volunteer youth leader in the little 'spare' time I had. I have been able to bring all my life experiences with me sharing with others.
We learn with and from each other, day by day. With many opportunities to interact with peers from around the world. Whom represent diverse backgrounds and perspectives.
It is a blessing to be here!"
by Stephen Ansa-Addo – student, Westminster College