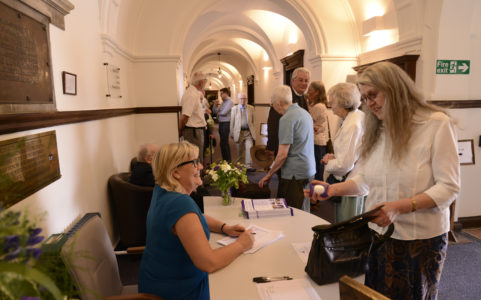 The vision of our redevelopment means maximising the flexibility of our spaces and staff to cater to the many and evolving needs of individuals, congregations, committees and wider URC gatherings. Already Westminster is deeply involved in ecumenical and inter-faith partnerships, and welcomes enquiries from individuals and groups from other traditions.
We offer a growing and diverse range of programmes for the Church. Most of these are open to lay and ordained participants, and some focus upon specific groups and ministries such as URC worship leaders and preachers. Creativity and feeding a spiritual imagination are fundamental to our life and work. We offer you opportunity for retreat and spiritual guidance along with the creative possibilities of our worship, chapel, prayer labyrinth and art studio. Cambridge provides a host of opportunities, and many add time to enjoy these to participation in an event with us. To find out more please get in touch. We are always happy to add you to our contact lists.
Please note as from Thursday 1st February 2018, Westminster College carpark will be regulated as below;
Monday to Friday – 8am to 5pm – Annual Permit holders only
Monday to Friday – 5pm to 8am – Pay and Display (£1.50 per hour, £5.00 over 3 hours and overnight stay)
Weekends All day – Pay and Display (£1.50 per hour, £5.00 over 3 hours and overnight stay)
Please note, however, that ALL URC EVENTS WILL BE EXEMPT FROM ANY PARKING CHARGES
You will find further details about planning your journey and alternative parking here. Please do not hesitate to contact us for more information on 01223 33 06 30.
We have detailed accessibility statements available on our Building Accessibility page.
To view how we will use your data, you can read our Data Protection Statement and Privacy Notices, in line with the new General Data Protection Regulations.